The Perfect fit: Dickies Guide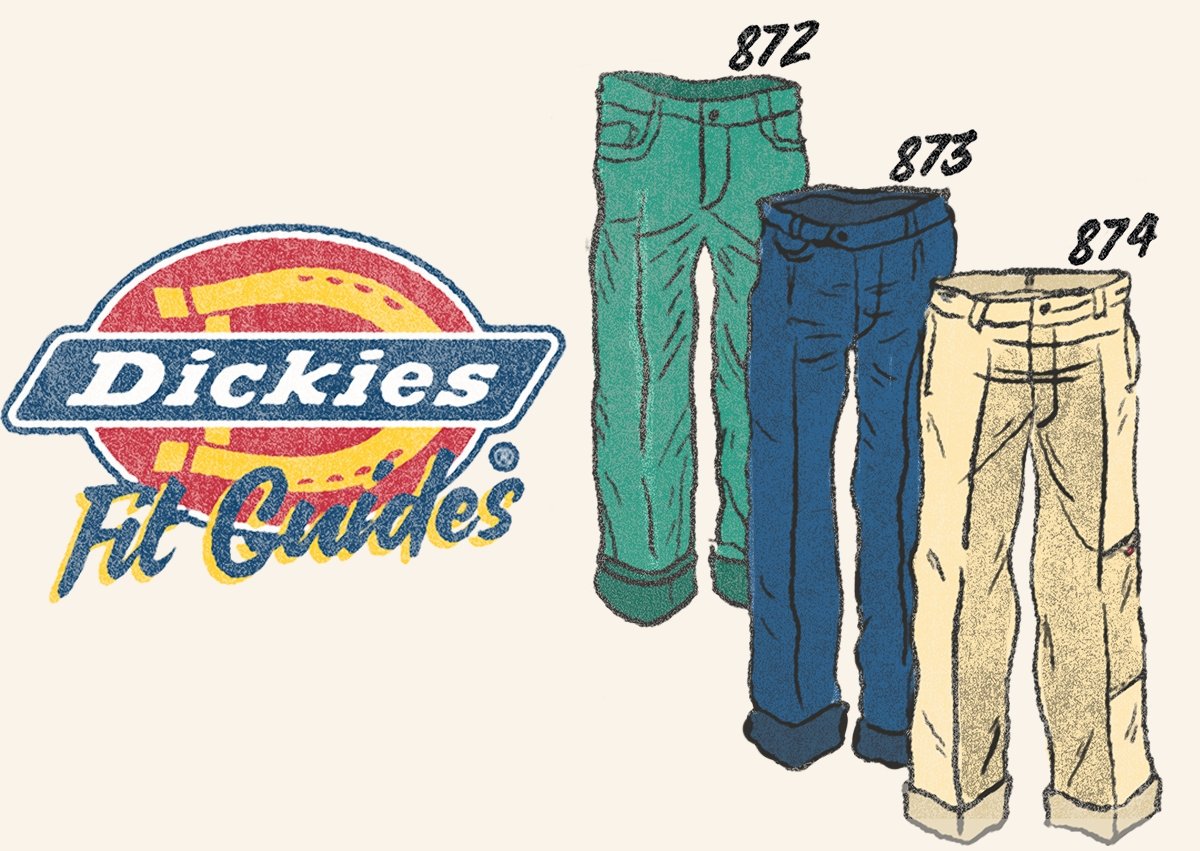 Dickies, A Brief History: 
Dickies were seen being worn by the skate and punk scenes in the 70s, and by the 90s it had become a regular fixture in streetwear culture. Fans appreciated the brand's durability and affordability, and it quickly became popular as more affordable streetwear item. While still rooted in its workwear principles, Dickies updated its designs to fit this cultural shift and become a major player in the streetwear game. Over the years, the brand has continued to find success selling classic streetwear looks that match the modern streetwear trends. Dickies current streetwear looks have that classic, timeless feel and style that has kept the brand popular for decades.
Dickies 872:
The 872 Slim Straight Fit trousers are a modern classic, with a varnished look, and a casually straight fit, right in the middle between a tailored look and something looser. Features such as a metal hook, straight leg and mid-rise, help you look clean in any special occasion or casual dates. 
When putting on the 872 trousers, it is important to ensure that you have the right waist size, as the cut of the trousers is based around a low-rise, which means a snug fit around the family jewels. It is also essential to ensure a good inseam length, as the 872 trousers come in different lengths for different builds. Additionally, it is important to note that the 872 trousers are designed to leave a little extra room in the leg for the perfect casual look. To achieve the perfect 872 look, pair the trousers with a finer-cut shirt or slim-fit knitwear, and you will be ready to hit the streets! 
Dickies 873:
From the Boredroom to the dance floor, Dickies 873 Loose Fit Work Pants are the ideal style staple. With the loose fit around your twerking machine (bum) and thigh, everyone can enjoy this classic fit. A versatile trousers for broad range of styles and looks, the 873 trousers feature a mid-rise, a zip-fly closure, and a longer length. 
We recommend selecting your normal waist size for a seamless look. Additionally, positioning the pants slightly below the waist will create a stylish look that pairs perfectly with a wide range of footwear. The 873 Loose Fit Work Pants are designed for comfort and baggier fit. Oversize hoodies, dropped shoulder shirts. Pair them with low cut shoes (Vans Classic, Saucony Shadow original or Numeric 306 would be ideal for any occasions. 
Dickies 874:
For a looser fit and wider seem 874 is you're go to. We personally recommend wearing them high waisted to mess around with your silhouette. High waisted fit makes your legs look longer and bring out more personality to your overall fit. The 874 trousers feature a high-rise, a zip-fly closure, and a slightly longer length so they fit around the waist comfortably.
With a slightly longer length, the hem of your 874 trousers should land above the top of your shoe. As a general guide, the best place for your 874 trousers to sit is around 1-2 inches below your ankle. 
We personally recommend tighter shirt or crop jacket to complete the casual 70s look. Travel through time with your outfit. Step out of your comfort zone. You're only young once. Enjoy it.
Conclusion:
From comfort and convenience to performance and protection, the Dickies Workpants are a versatile staple piece for anyone's wardrobe. Whether you're starting out your journey into streetwear or just looking for an alternative to spice up your day to day fit, Dickies work pants collection should be on your mind. We hope this guide provides enough information to set you off on your journey. 
Shop your preferred Dickies fit here.